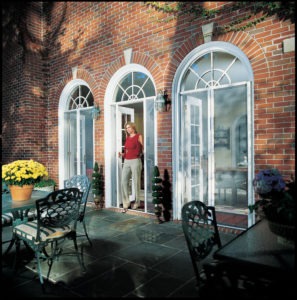 Add a bit of sophistication to your home with the timeless elegance of a French Patio Door. Two panels open easily to flood a room with air, yet close tightly to ensure energy efficiency. Choose from a wide assortment of materials (wood-clad, fiberglass, and steel), sizes and options to create exactly what you envision for your home.
Atlas offers the durable quality of steel, the efficiency and durability of fiberglass to the ultimate in aluminum doors with pine or hardwood interiors.
Our steel doors offer the option of white painted or primed, our fiberglass doors offer a wide variety of colors as do our aluminum/wood doors which also include the ability to stain the wood as you wish or choose from a wide selection of finishes.
French Patio Door Options
Contact us at Atlas to see a full selection of the optional sidelites and transoms we offer to transform your home.
A variety of transoms for your patio doors are available to add even more light to your home.