Gutters by Atlas
We have a wide variety of gutter solutions and overhang options to fit any budget.
Gutters both take care of your roof drainage and make a great curb appeal statement while also raising the value of your home.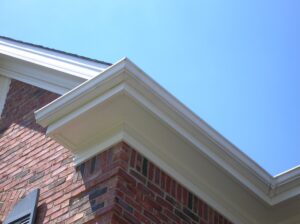 Poor gutter flow can damage both the wood around the gutters as well as erode the soil base and damage your foundation or basement. To make sure we offer the best product to our customers, Atlas gutters are a custom formed, joined and feature a seamless 5" design for every customer's home.
The 5" seamless design – a 25% increase in capacity for many of our customers' existing gutters – helps to prevent the rain drainage from flowing over the gutters as well as blockage in the gutters. This unique feature helps to protect your home from soil erosion and foundation damage.
We have an incredible selection of colors and styles to match or upgrade what you already have. Be sure to read more about Gutter Guard solutions that bring even more value and protection to your home.
Please look through our gallery below to see the work we have done for some of our customers.