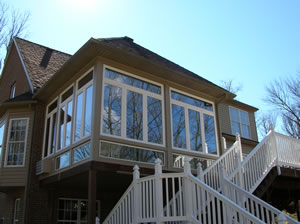 Screened Room Enclosures
Screened Room Enclosures by Atlas provide constant shade and protection from the elements.
Patio Rooms
Atlas Patio Rooms are completely custom and never made from a kit. This enables us to use the highest quality materials from manufacturers such as Mastic and Royal.
We design what you want right at your kitchen table then build you your dream room. This both adds to your enjoyment of your home as well as your resell value when that day comes.
We have included a great selection of delighted customers' homes in our gallery below so you can see our work and let your imagination run. We hope you enjoy your tour.
Decks
Whether adding a deck or resurfacing your existing deck we can do it for you. A deck can completely transform a home at a much lower price than a patio room or screen room. Learn more about Decks.
Patio, Deck and Porch Railings
The railings you add to your patio, deck, or porch can make a great difference in the way the home looks. This can be, as some say, the icing on the cake. Atlas offers an incredible selection of railing options to give your home the style and add the beauty you desire.