Achieve peace of mind and increase the value of your home.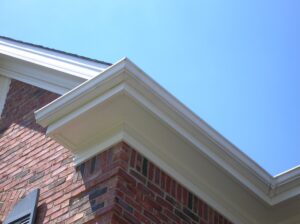 Gutter Guard is one of the most demanded products we offer. Most of our customers looking for gutters choose a gutter guard solution for these reasons:
Saving time and effort associated with cleaning the gutters themselves
Decreasing the likelihood of getting injured while cleaning the gutters
Prevents the need to pay someone else to clean the gutters
Adds a valuable and unique feature when selling the home
There is no need to worry about the Atlas Gutter Guard hampering the drainage capability of your gutters. Our product is tested to endure rain flow of more than 21 inches in an hour. This capacity helps ensure the leaves stay out and that the gutters protect your home as they are designed to.
Rather than decreasing the curb appeal of your home by inserting a generic brand of gutter protection, Atlas Gutter Guards match the color of your home's existing gutters and blend in seamlessly. Atlas Gutter Guards use two laws of physics, surface adhesion & gravity, to effectively convert existing rain gutters into self-cleaning gutters.
The only openings are the two rows of offset filtering louvers on the vertical face of the panels. This is where surface adhesion comes into play, drawing the rainwater into the gutters, even in the hardest rain. The offset louvers on the vertical face keep leaves, pine needles, etc. from washing into the gutters when it rains.
Schedule an appointment with Atlas today to learn more about our Gutter Guard solutions.