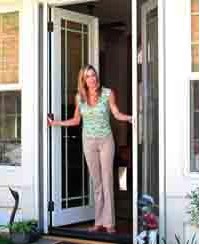 Retractable screens are the perfect solution if you want the cool, fresh breeze to come into your home at any time. Retractable screens reduce some of the UV and serve as the perfect screen door when you want the door to completely go away, and of course the security of a closed-door when you're not using it.
Phantom Screens® is North America's leading provider of retractable screens for applications including:
Retractable screen doors
Retractable screens for windows
Retractable screen for french doors
Retractable Screen Door Benefits
Because these screen doors are retractable, you only see them when you want them. You can roll the screen to the side or top of the door or window.
Save time on cleaning doors and windows – retractable screen doors helps prevent windows and doors from getting dirty.
Unlike conventional screen doors, Phantom screen doors do not have to be opened and closed all year long. During the winter simply leave the screen door in the rolled-up position.
The Phantom Door offers the best screening coverage while also increasing ventilation for your home.
Keep out insects and harmful UV rays that can damage furniture, carpets and flooring.
Custom Colors and Coatings
Our screen doors come in eight signature color coatings to match your home's existing trim on windows or door frames.
Special order wood grains (15 varieties) and custom colors are available as well as special orders.
Quality Construction and Installation
All screen doors are custom-built to fit your window or door opening perfectly
Each Phantom screen door is made from high-quality extruded aluminum with powder-coated finish, durable nylon parts and a strong mesh made of fiberglass with a PVC coating.
Phantom's screen products are made with only high-quality material to ensure smooth gliding and a perfect fit.
Phantom screen doors come with a two-year labor and limited lifetime parts warranty.
Qualified installers will come to your home to install and service the product.